DO YOU WANT AN AFRICAN THATCHED ROOF LIKE THIS?
TROPICAL STRUCTURES.
Improve the outdoor living space of your gardens and outdoor areas for maximum comfort and relaxation.
WHAT WE BUILD
African thatch roofs, African pergolas, decking, …
AFRICAN THATCHED ROOFS
We build African Thatched Roofs where you require a shaded space in your outdoor living areas. Bringing value to your property and immense comfort to your home
Pergolas
Our pergolas are built with pine wood. They are designed to provide you with shade and a cool relaxing living space for all your needs.
Decking
We install non-slip floors ideal for outdoor areas with showers and around pool areas. They do not need periodic maintenance thanks to their resistance to moisture and chlorine.
OTHER STRUCTURES
We build other types of structures such as parasols, railings, bars, outdoor kitchens, light fixtures and fittings , and whatever your outdoor living space requires.
Tropical Structures
Our projects are based on high quality raw materials.  We work with the African reed (thamnochortus insignis) and pine wood (pinus radiata) that grows in a small area of the Cape Town province located in South Africa.
We create modern structures and shapes, but with a design that highlights the natural feel of the wood, giving a spectacular look and feel while at the same time providing a functional outdoor living space.
These raw materials are naturally waterproof and have wonderful insulating properties, providing maximum efficiency, keeping the interior warm in winter and cool in summer. Achieving up to 10ºC difference compared to the temperature outside and offering protection against UV radiation.
In addition, Wooden materials are treated against insects and are resistant to the most adverse weather conditions.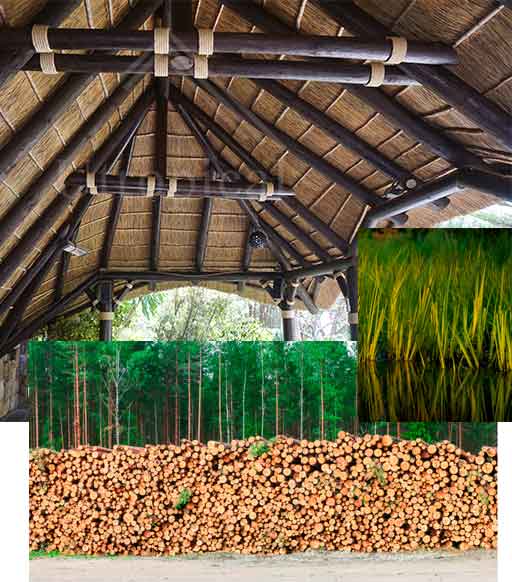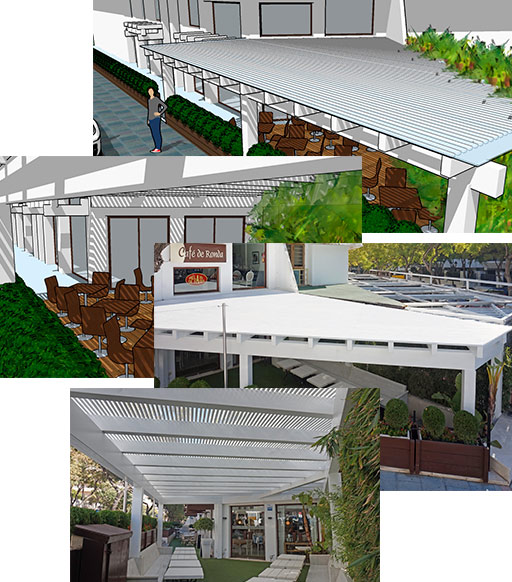 How do we work?
Contact us via our contact form or by phone.
We'll give you an appointment.
We'll visit your facilities and properties.
We will measure the area where we will build or install your future tropical style structure.
We'll do a 3D design of what it would look like.
We'll send you the quote next to the 3D design.
We require a down payment of 50% before starting the work.
We carry out the installation and / or construction.
At the end of the project you can pay the rest of the remaining balance. (50%)
FROM INITIAL DESGIN

TO FINAL PRODUCT
"
Amazing Workmanship! Extremely professional business and highly recommended. Thank you for the installation of our tropical African thatched roof, the installation is impeccable and all the workmanship is completed to a very high standard.
"
WHY
HIRE US
We are a family run business and have many years of experience in building African Thatched Roofs, and experience in the Carpentry sector
We love our work, when we visit a new project we are able to envision exactly what we can do for you so you can enjoy all your free time and most of all the wonderful climate we have here in Spain
We install structures all throughout Spain (Including the Canary/Balearic Islands).
Will we come visit your property, pool or beach bar?
About us
Creating Natural Beauty
Although we are a relatively new company we have many years of previous experience working in the installation of tropical roofs. We take care of the whole process, from the import of the raw material, through the to design of the structure up till the completion of the installation.
Utropical began with the idea of providing a better look for the gardens our clients homes, creating spaces with more relaxing and tranquil shaded spaces and in turn creating outdoor living spaces of high quality and workmanship, with waterproof decking/floors, that are non-slip and providing a more sophisticated feel and ambience than other materials. What we stride for most above all is to provide quality, durability and safety with our warranty of up to 10 years, depending on the type of installation.
High quality raw materials imported by our company.
Design and installation by our team of technicians, builders and carpenters.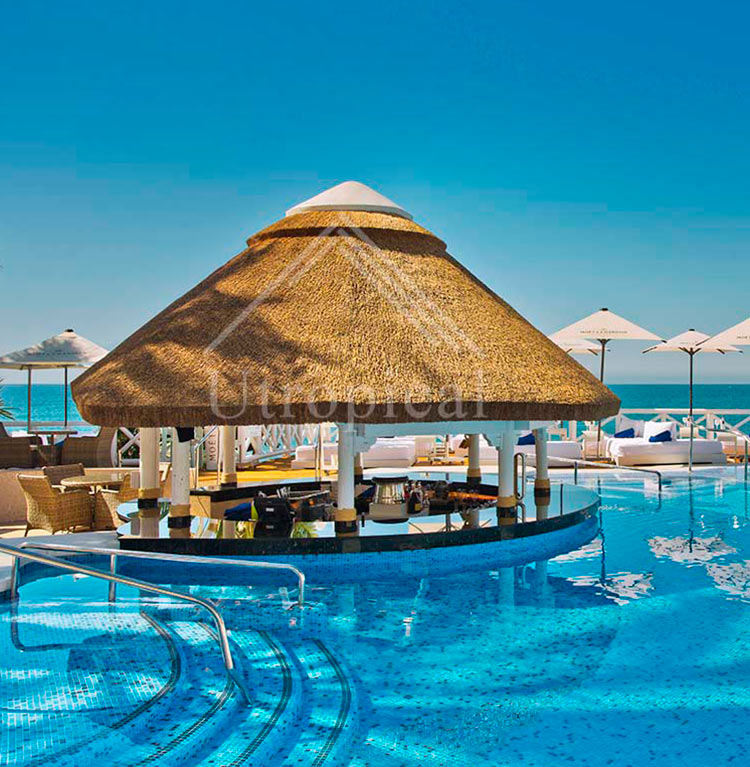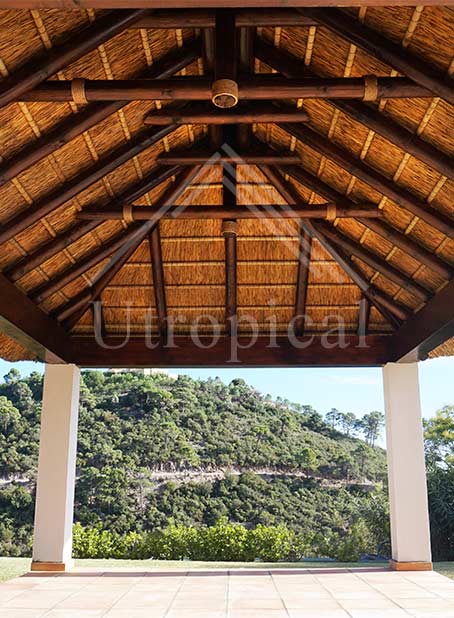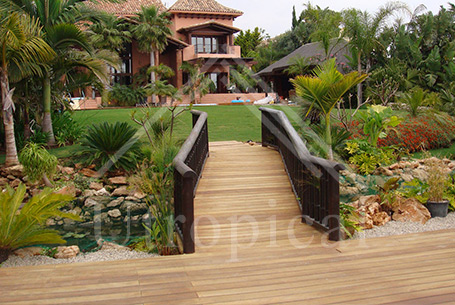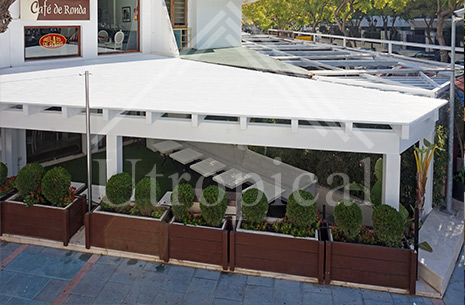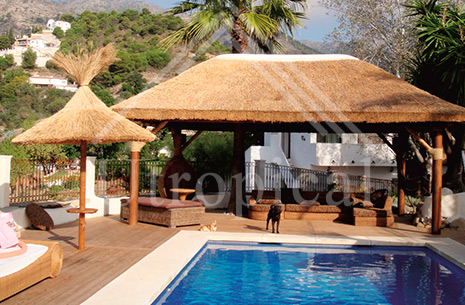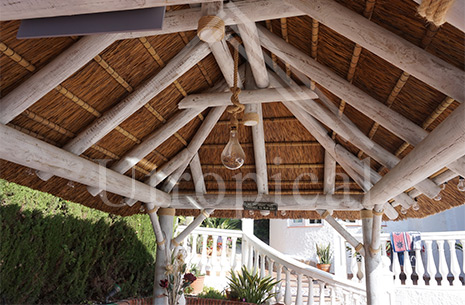 Testimonies
Our Customer Reviews
Contact us
Contact us via the request form on our website and request a free quote today!
Office
Calle Ébano 8, Mijas Costa, Málaga
We are NOT in the office, please make an appointment before visiting us.
OPENING HOURS
Monday – Friday : 08:00 – 18:00, Saturday : 08:00 – 13:00