DO YOU WANT A BALINESE BED LIKE THIS?
wooden balinese BED offer
BALINESE BEDS
Built with reed imported from South Africa

Wooden Balinese Beds

The Balinese Beds is an excellent choice for hotels, beach bars and personal gardens, giving them a very attractive and sophisticated tropical atmosphere.
The African reed does not need to be treated with insulating products, because its naturally waterproof, in addition it helps protect you from UV rays, keeps the interior warm in winter and cool in summer. Allowing for up to 10Celcius of difference compared to the temperature outside.
Our main raw material is South African Reed and Red Pine. Our company makes sure we import them directly without middlemen, we carry out a 3D design and install the structure. Our team of professionals consists of qualified technicians, builders and carpenters.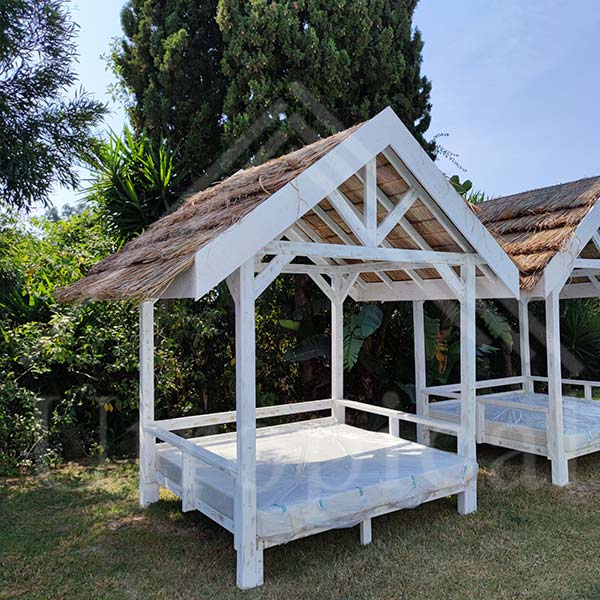 Waterproof roof, Made of high quality and long lasting materials.
Improves the look of your garden.
Gain extra shade in exterior living areas.
Special mattress for outdoors and ultra comfortable included.
F.A.Q.
Frequent Questions
DO THE AFRICAN THATCHED ROOFS HAVE A WARRANTY?
Yes, they have up to 10 years warranty.
ARE THEY WATERPROOF?
Yes, they are waterproof and in addition to protecting from UV rays, they keep the interior warm in winter and cool in summer.
HOW WILL WE KNOW HOW MY TROPICAL ROOF IS GOING TO LOOK?
Along with the quote we will give you a 3D design of what it will look like.
Contact us
Contact us via the request form on our website and request a free quote today!
Office
Calle Ébano 8, Mijas Costa, Málaga
We are NOT in the office, please make an appointment before visiting us.
OPENING HOURS
Monday – Friday : 08:00 – 18:00, Saturday : 08:00 – 13:00